This Earth Day, I want to share some effective tips on going "green" in everyday life.  On this ONE day out of the year, we're preached to about planting trees, recycling, walking more and driving less. While those actions can make a positive difference, I want to talk about real change we can make in our daily habits. Real change that can happen EVERY day, for the greatest impact overall. Here are my Top 10 tips to be more Green! 
1. Skip Out on the Plastic!
Plastics create almost 13% of municipal waste, with most of the material coming from packaging and containers. That's about 30 million tons! Plastics pose serious environmental concerns. When made from non-renewable resources, they do not break down naturally in the environment and therefore continue to exist and cause damage for hundreds of years. 1, 2 For some of these items, recycling is an option. Others items, such as cling wrap or plastic sandwich bags, cannot be recycled. In this case, I say skip the plastic! Here are some great ways to reduce the plastic in your house:
2. Make Your Coffee "Green"
Americans love their coffee. By some estimates, Americans drink more than 100 billion cups of coffee every year.  "Coffee plants originally evolved to thrive beneath the lush canopy of tropical forests, not in sun-exposed fields." However, conventional methods used today typically deplete rain forest in order to produce plantation fields of coffee bean plants.  "The wholesale burning and clearing of forests today produces roughly 16 percent of the global greenhouse gas emissions that cause climate change – that's more than the amount created by all the planet's cars, trucks, SUVs, and trains." Additionally most conventional coffee is produced with heavy use of pesticides and fertilizers that not only impacts our personal health, but also leaches into the soil and affects the water quality of the surrounding area. After all that, even more damage occurs when over 14.4 billion cups of coffee are purchased in disposable paper cups per year!3, 4 Here are some tips on making your coffee more "green" in the morning:
3. Go 'Paperless' in the Kitchen
I've been "paperless" for a couple of years now and I can honestly say, it's not that bad! We slowly filtered out our paper towels and I made a commitment to buy no more. Remember hand towels and wash rags? Yeah, that's what we use. I'm not worried about germs or bacteria, we usually filter out old towels and rags on a daily basis (or earlier if needed) and wash with normal laundry. This is such a simple change to make, and so worthwhile! The use of disposable paper towels has a huge impact on the environment by contributing to deforestation, water pollution, and global warming.  If all Americans used one less paper towel a day, 571,230,000 pounds of paper would be spared over the course of the year. That's the equivalent to 4,855,455 trees and 5,712,300,000 gallons of water! 5, 6 Switching to dish towels and wash rags is the easiest way to reduce paper waste in the kitchen; however, here are a few other creative ways to go paperless:
4. DIY Cleaning Products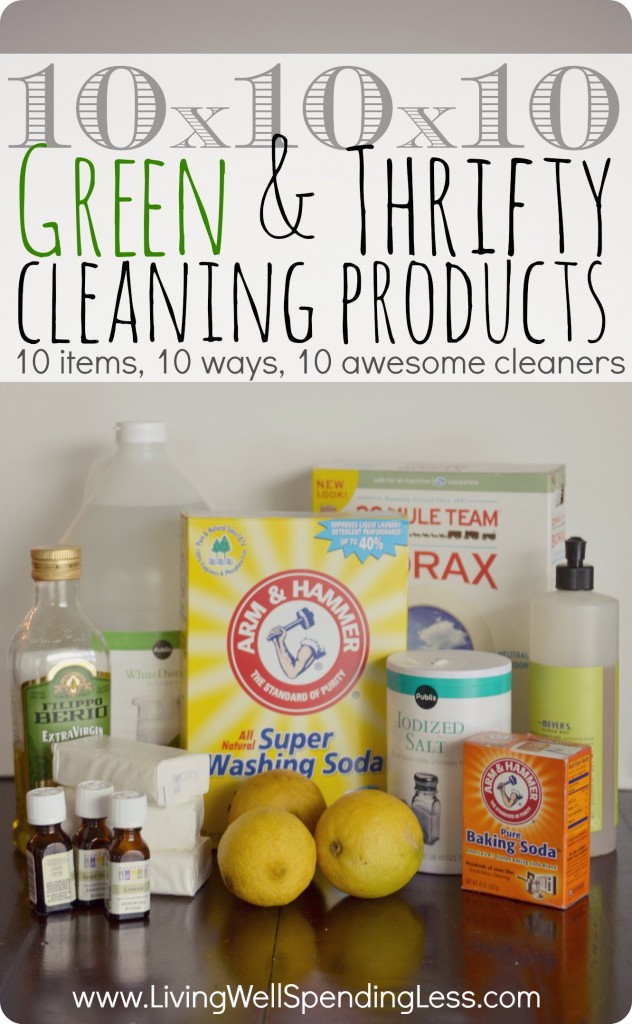 While the chemicals in commercial cleaning products are intended to make our dishes, bathtubs and counter-tops sparkling clean and germ-free, many also contribute to indoor air pollution, are poisonous if ingested, and can be harmful if inhaled or touched. In fact, some cleaners are among the most toxic products found in the home. In 2000, cleaning products were responsible for nearly 10% of all toxic exposures reported to U.S. Poison Control Centers. Many indoor home, office, and school environments have been identified with high levels of VOCs in association with cleaning products and processes. And what happens after the cleaning product is rinsed down the drain? After being treated at municipal plants, most cleaning products break down into harmless substances and are released back into the waterways. However, there are some substances that do not break down, threatening the water quality for fish and other wildlife. In a May 2002 study of contaminants in stream water samples across the country, the U.S. Geological Survey found persistent detergent metabolites in 69% of streams tested. Sixty-six percent contained disinfectants. As far as I'm concerned, these toxic substances are NOT something I want in my home. Most household cleaning can actually be done with a few safe and simple ingredients including baking soda, vinegar, lemon juice, borax, and elbow grease.7, 8 Here are some great sites full of recipes for household cleaning products ranging from laundry detergent to all-purpose cleaner to floor polish:
5. Re-use Glass Jars
Spaghetti sauce, peanut butter, baby food, pickle jars…Don't waste all that glass! Approximately 13 million tons of glass waste are generated annually. Food and beverage containers make up over 90% of this amount; the remaining 10% comes from products like cookware and glassware, home furnishings, and plate glass.9 Save those jars and use them for a variety of uses ranging from home organization, decoration pieces, lanterns, sprouting jars, etc. One family even uses their glass jars for grocery shopping, read about it here. Recycling glass takes 30% of the energy required to produce glass from raw materials. Even one glass bottle saved saves enough energy to light a 100-watt light bulb for four hours! 10 Here are some fun and creative ways to use that glass:
6. Recycle Responsibly 
Do you ever wonder if what you're recycling, actually recycles? Sometimes it feels like we're just putting our trash in brightly colored bins, and telling ourselves that we're doing a good deed. The truth is, if we're not effectively recycling, this may be true. It's important to make sure that the items we are recycling are clean of dirt, debris, and food waste. One dirty product, or one with food waste still in it, can contaminate an entire bale, containing thousands of pounds of collected plastics.11 This can cause thousands of recyclable items to go to a landfill instead of being recycled. It's also important to understand which numbers are recycled. Most municipalities accept #1 and #2 recyclable items. But what about the other numbers? This is where a little work is required. Check with your city's waste management, and find out what numbers are recycled. For items not accepted, or not numbered, there are lots of great sites to help you recycle your "hard to recycle" items such as food bar wrappers, light bulbs, batteries, electronics, etc. Terracycle is a great organization that recycles several unusual items ranging from tooth paste tubes, cigarette butts, baby food pouches, food bar wrappers, select electronics, watches, and more! Here are some other links to help you on the path to more effective recycling:
7. Reuse Old T-shirts
Who doesn't have a pile of old t-shirts collecting dust in the closet or drawer? Before these unused shirts hit the trash, consider donating to a thrift store or even better, use for household cleaning and DIY projects. I literally just chop mine up with scissors and use them for rags and cloth diaper wipes. Here are some other 'fancier' ways to use those t-shirts:
8. Garden, Not Lawn
Not only do lawns deplete water resources and lack proper water retention, they use up valuable space that could be used as natural wild habitat or vegetable gardens. It is estimated that there are three times more acres of lawns in the U.S. than irrigated corn. This means lawns—including residential and commercial lawns, golf courses, etc—could be considered the single largest irrigated crop in America in terms of surface area, covering about 128,000 square kilometers in all. That means about 200 gallons of fresh, usually drinking-quality water per person per day would be required to keep up our nation's lawn surface area.12 Lawns originated in England, where rainfall was sufficient to keep lawns watered naturally. When Americans adopted the green lawn, we realized that we needed to use lots of water in maintenance. A hose running a sprinkler is estimated to use nine gallons per minute.13 By vegetable gardening, and more conscious watering, we can reduce the amounts of fossil fuels used by our yard space, and trips to the grocery store! The best types of gardens to start are with permaculture techniques, working with  nature and reducing the amount of work overall. Here are some ways to turn your lawn into garden:
9. Arts and Crafts for Home Decor and Kids Activities! 
What more needs to be said? Before trashing those milk cartons, or toilet paper rolls, or magazines, consider the endless craft and art projects you can do with those raw materials! I'm currently obsessed with saving old empty food containers and bins and using them for fun homemade toys for Babybot. Empty coconut oil tub? Perfect drum. Empty container of cocoa powder? Excellent piggy bank. Old boxes? AMAZING playhouse! There are so many ways to use our trash!
10. Save Kitchen scraps for a variety of uses! 
Before you toss out your carrot peels, celery ends, or apple core, consider saving those scraps! Food loss and waste also amount to a major squandering of resources, including water, land, energy, labor and capital and needlessly produce greenhouse gas emissions, contributing to global warming and climate change. There are a surprisingly good number of things we can do with our food waste before they greet the trash can. This is probably one of the easiest, and perhaps most rewarding ways of going "green!"
Make broth from onion peels, ends of carrots, outer cabbage leaves…And don't forget the bones saved from dinner! 
Compost your kitchen scraps for excellent garden fertilizer that is natural and eco-friendly! 
Make Apple Cider Vinegar with peels and cores

! 

Use the end of scallions, bottom of lettuce heads or celery stalks to make a frugal garden!
 Whew! There you have it folks. Easy, Real, Effective ways to go green this Earth Day. Go forth, and make some positive change for the only home we know – Earth! 
Resources: